About
New Cascadia Traditional™ is a dedicated gluten-free bakery, specializing in hand crafted artisan breads, pastries, cakes and cookies as well as pizzas and sandwiches. Our retail location is in SE Portland at 1700 SE 6th Avenue Portland, OR 97214-3525. We can also be found at the Portland Farmers Market and local grocery stores, cafes and coffee shops around the Portland metro area.
Dedicated Gluten Free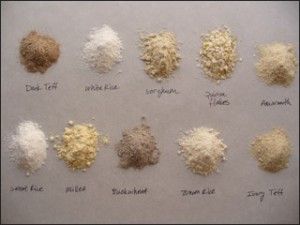 As someone with severe gluten intolerance I understand the importance of finding a safe source of gluten-free (GF) food that tastes delicious. We have taken steps at New Cascadia Traditional™ to ensure that our customers can safely enjoy our products without having to worry if what they are eating is going to be contaminated with gluten. We also want everything to taste as good as it possibly can taste.
New Cascadia Traditional™ is a dedicated GF bakery. We only produce GF baked goods. We verify and source our ingredients to ensure that they are safe. For example, many of our grains are only milled on dedicated GF equipment. http://www.bobsredmill.com/gluten_free_info.php
The staff at New Cascadia Traditional™ is well informed in the issues of safety specific to GF food. In fact some of our staff are gluten intolerant and all are happy to answer your questions regarding our practices and ingredients.
If you have specific questions regarding allergen information or anything else feel free to contact us.
FAQ
Why did you start New Cascadia Traditional™?
Chris: I have always been a connoisseur of high quality bread. Before I developed gluten intolerance I would often drive across town to get a baguette from one of the better bakeries. When I developed gluten intolerance it was pretty devastating.
Teresa: For me it was less about bread and more about pastries and cookies. Unsatisfied with what GF baked goods were available to us we embarked on a mission to bake our own. We soon realized that what we were making at home was better than what we could find locally.
Chris: We even made a point of stopping at just about every natural food store on a 10,000 mile cross country trip in 2006 to see what gluten free baked goods were available. This trip confirmed that what we were doing was something special. In 2007 we started selling our baked goods at the Portland Farmers Market and the response from our customers was great.
Where did the name New Cascadia Traditional™ come from?

Our name reflects everything that we are. "Cascadia" reflects the area of the country we live in, which is the Pacific Northwest. We feel really fortunate to live here. The Willamette River Valley is so rich and bountiful in terms of the agriculture and food that is produced here. Portland has come to distinguish itself as a town with both high culinary standards and an openness to different dietary needs.
The "New" reflects our unique perspective in creating artisan gluten free baked goods. Some bread purist might scoff at a gluten free bakery using the term artisan to describe their product, however, many of the grains we use have been used for thousands of years-predating wheat in particularly flatbreads (see injera and bhakri) and even pasta.
"Traditional" reflects how we have utilized many of the baking techniques used in artisan bakeries, using only gluten free ingredients.  One of the techniques that we utilize is the way we leaven many of our breads. We use a natural wild yeast starter that we've cultivated.  These techniques help to bring out the natural flavors of the grains we use.
What distinguishes your Gluten Free bakery from other bakeries?
One important distinction is that our bakery is a dedicated gluten free bakery. Some bakeries have started offering gluten free items made on the same equipment as their wheat products. To many of those who are severely gluten intolerant this is unthinkable given the chance of cross-contamination. We want to be sure that our customers feel totally confident that what they are eating is in fact gluten free.
A way that we've distinguished ourselves from other gluten free bakeries is that we use many grains that are neglected in gluten free baking but produce really nice results and pack a nutritional punch. White rice flour and tapioca flour are important components of gluten free baking but there is so much more out there. Grains such as teff, quinoa and amaranth are remarkably nutritious and tasty. We've worked hard at incorporating many of these into our breads, pastries and cookies.
What are some of the other flours you use instead of wheat?

We use ivory and dark teff, coconut flour, quinoa, millet, white rice, brown rice, tapioca, potato, sweet rice, and hazelnut meal, to name a few. We don't use any bean or soy flours, however. It's also important to note that we source our flours and grains from suppliers who can confirm that what they sell is gluten free.
A question we often get is "Do you use any spelt?" the answer is a resounding NO. Spelt is in fact an ancient form of wheat and is NOT gluten free. Despite popular belief it isn't even really wheat free. Wheat and spelt both fall under the scientific classification for genus, triticum, which includes various grains that are more or less close relatives.
Our bread is best if consumed within 24- 36 hours of purchase. Store it in a plastic bag on the counter-not the refrigerator.
If it won't be consumed within 24-36 hours, we recommend freezing the bread in a zip-top plastic bag as soon as possible. We suggest that you slice it before freezing.
Any of our breads can be thawed out on the counter and eaten as-is or toasted.
For our baguettes and batards, you will get the best results if you thaw them on the counter for 30 minutes to an hour and then put them in a preheated oven at 350 degrees. The larger loaves of bread may take 7-10 minutes to get to that "fresh out of the oven" effect.
If you have any questions or comments about any of our products, please feel free to email us at: info@newcascadiatraditional.com